Safety

Edges

Mayser Safety Edges are sensors which make pinching and shearing edges safe from the danger of pinching. Depending on the switching principle, they are offered as a normally open contact and a normally closed contact.

Safety Edges and Miniature Safety Edges are used for Drag Detection and Obstacle Detection in passenger cars, on bus and train doors, in the machine-building sector or on doors, gates and windows in building technology. If the Safety Edge meets with an obstacle, the automatic movement is stopped immediately. For example, if a hand gets caught in a closing door. Whatever you want to protect or safeguard, we offer you the right technology and the right rubber profile. Mayser Safety Edges comply with the requirements of the ISO 13856-2, ISO 13849-1 and EN 12978 standards. Depending on the requirements, we produce Safety Edges with various bend radii, angled geometries and active ends.

Using our DIY Safety Edge kits you can produce Safety Edges yourself, quickly and cost-effectively.

New "Without Tools" Sensor Profiles https://www.youtube.com/watch?v=4CefF72zI-M

For Safety Edge technical information please click here
Mayser Miniature
Safety Edges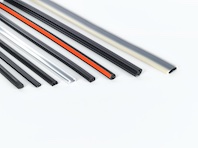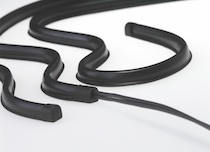 Mayser Miniature Safety Edges (EKS) are specially developed for areas where only extremely short overtravel distances and minimum installation heights are possible. They are especially suitable for use in window and facade technology to protect fingers from being pinched. If the sensor comes into contact with an obstacle while a window is closing, the system immediately stops the closing motion and the window opens again. Miniature safety edges can easily be adapted to different bending radii and angles. For indoor use you can prepare the anti-pinch sensor yourself. Miniature safety edges are also suitable for automatically closing vehicle doors and windows and are also used as collision and Anti Pinch Sensors on electrically operated lounge furniture and modern medical treatment equipment. Various EKS profiles are available for different applications, including: EKS002 / EKS011 / EKS030 / EKS014 / EKS015 / EKS026 / EKS038
Mayser normally closed
Safety Edges SL/NC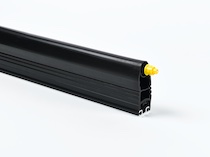 Mayser normally closed Safety Edges are used as Anti Pinch Sensors and transmit signals straight to the control system of machines, plant and equipment, stages or gates - no special control unit is required. Various size profiles are available for different applications:- GP48 NBR / GP48 EPDM / GP65 EPDM / GP100 EPDM
When the normally closed Safety Edge is activated, an existing contact is interrupted. The principle contrasts with the normally open Safety Edge, where a contact is closed, thus triggering a signal .
Our normally closed Safety Edges are mounted as Anti Pinch Sensors direct to the dangerous main and secondary closing edges. When the normally closed Safety Edge is activated, the connection between the contacts is interrupted and the dangerous movement is brought to an immediate halt .
The positive break contact chain simultaneously fulfils the function of the sensor and of the evaluation unit. A special control unit is therefore not necessary. The normally closed Safety Edge is connected direct to conventional E-Stop modules or to the machine control.
Mayser normally open
Safety Edges SL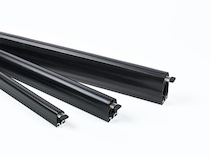 Mayser normally open Safety Edges are used as Anti Pinch Sensors. They are available in a wide range of profile geometries and make pinching and shearing edges of machines, systems, stages and gates safe - reliably.
When our normally open Safety Edges SL are activated, a contact is closed, thus causing a short-circuit. In order to protect people and objects, a signal to the evaluation unit interrupts automatically controlled movement immediately.
Our Safety Edges are mounted as Anti Pinch Sensors direct to dangerous pinching and shearing edges. For example, on machines, stages or gates. Depending on the run of the closing edge, bend radii are possible.
The high-quality materials and various profile geometries our Safety Edges come in guarantee their suitability for all stopping distances and environmental influences. Our Safety Edges are therefore both resistant to weather conditions and to most chemical substances
We manufacture these normally open safety edges here in the UK. Various size profiles are available for different applications:- GP22 NBR / GP39 NBR / GP39 EPDM / GP50 CR / GP50 EPDM / GP60 CR / GP60 EPDM
2 wire systems (SL/W) with built in resistor and 4 wire systems (SL/BK) are available.
Mayser Sensor Profile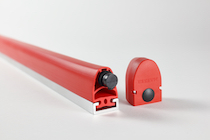 Typically used in the automated gate industry, the Mayser Sensor Profiles are available in a range of different profiles, supplied as either custom built edges, DIY self-assembly material or assembly kits in 1500mm and 2000mm lengths (various profiles). The sensor profile series SP for protecting closing edges is available individually adapted to your products or as a DIY solution. Whether for use in production or uncomplicated on-site servicing, DIY installation of the new sensor profile series is very fast and requires no additional tools. A smart plug-in system consisting of the sensor, plug and a cap allows fast and easy installation of functioning safety edges directly at the gate with IP67 protection without the use of adhesives.